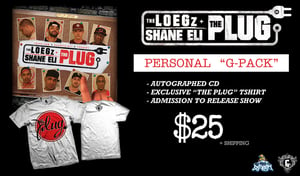 $

25.00
The League of Extraordinary Gz x Shane Eli x DJBooth.net present The Plug EP.
The Plug "G-Pack" includes a digital download on release day 12/12/12, an autographed copy of The Plug CD, an exclusive T-shirt, and admission to The Plug release show to be held in Austin, TX in January 2013.
ITEMS WILL SHIP LATE DECEMBER!